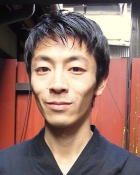 Hiroaki Komatsu
Sotai therapist/Sotai bodyworker                

I discovered Sotai while studying many types of therapy and
bodywork.
Though there are a variety of types of wonderful therapy,
I decided to study Sotai because it is holistic and effective.
Most of all,it allows patients to restore their own bodies.

I've learned Sotai technique from many Sotai teachers,and in 2010,I set up my own Sotai therapy center called "Akatoki-An" in Kyoto Japan.
I hold my own workshops every month in Kyoto.

Although Sotai originated in Japan, I would like to familiarize this treasure all over
the world.
My concept is "Stay local Stay global".

I will help you regain your health and offer the best combination of different skills,
depending an each individual's unique needs.

I'm looking forward to meeting you.

Thank you.